ESPERO VER ALGO DE ESTO!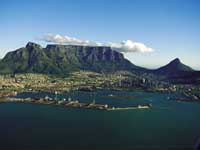 Cape Town panorama
Table Mountain
Cape Town's most popular tourist attraction is also its most famous physical feature, the flat-topped mountain that stands sentinel over the city. Table Mountain has been proclaimed a nature reserve, protecting its diverse floral species, some unique to its slopes. The views from the top of the mountain are quite spectacular. A Swiss-built rotating cable car carries visitors smoothly up the mountain and back. The mountain-top is equipped with a restaurant and small gift shop, as well as numerous pathways and vantage points. It is possible to climb the mountain via different routes, but inexperienced hikers should take care because Cape Town is prone to sudden weather changes. The walk up can take anything between one and four hours depending on the route and level of fitness. Route maps can be bought at the cable-car station. It is always best to check the website or call the weatherline to see if the cable car is in operation.
Address: Tafelberg Road; Website: www.tablemountain.net; Telephone: 021 424 8181 (weatherline) or 021 424 0015; Transport: Bus to Kloof Nek from Adderley Street and a 1.5km walk up the hill; minibus taxi from the Parade; Riki taxi; or as part of the Cape Explorer Topless bus tour; Opening time: Cable car operates daily (weather permitting) every 10-15 minutes from 8am to 8pm (November); 8am to 10pm (December to January); 8am to 8.30pm (February); 8am to 7.30pm (March); 8am to 6.30pm (April); 8.30am to 6pm (May to mid-September); 8.30am to 7pm (16 September to October). Closed for annual maintenance in July and August.; Admission: Cable car: R130 return, R65 one way (adults); R68 return, R36 one way (children under 18). Other concessions available. Bookings are not available due to changeable weather conditions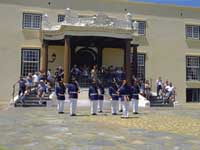 Changing of the Guards at the Castle of Good Hope © SATOUR
Castle of Good Hope
South Africa's oldest building, the Castle was completed in 1679 (replacing an earlier mud and timber fort built by the first Dutch Governor, Jan van Riebeeck). Situated adjacent to a parking lot and bus station in Buitenkant Street, its walls mark the original boundary of the seashore where the waves washed up against the fortifications. Its outside aspect is somewhat foreboding, but inside are some interesting features and collections that have been restored, offering a good insight into the early days of the Cape when it was the centre of social and economic life. The castle is a pentagonal fortification with a moat and five bastions, each named for one of the titles of the Prince of Orange. The entrance is a good example of 17th century Dutch Classicism, and a bell, cast in 1679 by Claude Fremy in Amsterdam, still hangs from the original wood beams in the tower above the entrance. The castle contains a Military Museum depicting the conflicts that arose during the Cape's early settlement, and also houses the William Fehr Collection of decorative arts, including paintings, furniture and porcelain. Of interest are the dungeons, which bear the graffiti carved by prisoners incarcerated here centuries ago.
Address: Buitenkant Street, opposite the Grand Parade; Website: www.castleofgoodhope.co.za; Telephone: 021 787 1249; Opening time: Daily 9am to 4pm, with tours at 11am, 12pm and 2pm from Monday to Saturday. Self guided tours are possible with the aid of a map, provided by the Castle; Admission: R20 (adults), R10 (children); half-price on Sundays. Concessions available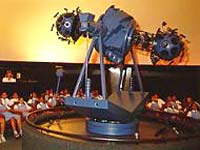 Planetarium
South African Museum and Planetarium
The imposing South African Museum, dedicated to natural history and the human sciences, contains a huge variety of fascinating exhibits from entire chunks of caves bearing rock art, to traditional arts and crafts from several African tribes. The natural history galleries are full of mounted mammals, dioramas of prehistoric reptiles and a collection of whale skeletons, which can be viewed with the eerie sound of whale song echoing in the background. Alongside the museum is the Planetarium, which has a changing programme of thematic shows involving the southern constellations.
Address: 25 Queen Victoria Street, Gardens; E-mail: info@iziko.org.za; Website: www.iziko.org.za; Telephone: 021 481 3800 (museum), 021 481 3900 (planetarium); Opening time: Daily 10am to 5pm. Planetarium shows Monday to Friday at 2pm and Tuesday evening show at 8pm; Saturday and Sunday 12pm, 1pm and 2.30pm; Admission: Museum: R10 (adults), R5 (children), free on Saturdays; Planetarium: R20 (adults), R6 (children)
Greenmarket Square
Situated in the Central Business District, near the main station, is Greenmarket Square, the perfect spot to observe South Africa's 'rainbow nation' in all its hues. Once the scene of slave markets, this is the site of one of the city's most vibrant flea markets, where clothing, jewellery, knick-knacks and souvenirs are on sale every day, and tourists and business people rub shoulders in the many sidewalk cafes that surround this busy cobbled square. Be prepared to haggle at the market to get the best prices and be warned, touts are prevalent. On the west side of the square is the Old Town House, dating from the mid-18th century, which is a wonderful example of Cape Dutch architecture and houses the Michaelis collection of Dutch and Flemish landscape paintings.
Opening time: Greenmarket Square open daily till 3pm, closed Sundays. Old Town House open Monday to Saturday from 10am to 5pm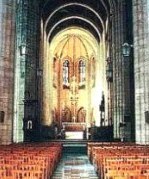 St George's Cathedral
Cape Town's Victorian Gothic style Anglican Cathedral, founded in 1901, is situated in Wale Street and is historically significant for it is where the enthronement of South Africa's first black archbishop, Nobel Peace Prize winner Desmond Tutu, took place. The Cathedral is unique in that it became a political powerhouse in the struggle against Apartheid, known as 'the people's cathedral', stating openly from the 1950s onwards that it was open to all people of all races at all times. This was a brave stand in the racially segregated society of the time. In subsequent years the cathedral became the venue for many protest gatherings and vigils and on occasions the building was surrounded by police, water cannons and barbed wire. Victims of forced removals were even accommodated in the cathedral at times. As far as architectural merit goes, the cathedral does feature some fine Gabriel Loire windows, including a magnificent Rose Window above the south transept.
Address: Wale Street; E-mail: info@sgcathedral.co.za; Website: www.stgeorgescathedral.com; Telephone: 021 424 7360 (Cathedral office)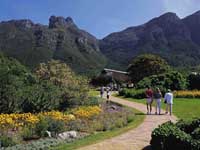 Kirstenbosch Gardens © SATOUR
Kirstenbosch Botanical Gardens
Five miles (eight km) south of the city centre lies the magnificent Kirstenbosch National Botanical Gardens, covering a huge expanse of the rugged south-western slopes of the Table Mountain range. Kirstenbosch was bequeathed to the nation by mining magnate Cecil Rhodes in 1895, and today contains more than 22,000 plants, a research unit, botanical library and nursery. Numerous paths meander through the gardens, including a Braille route for the blind, which are full of lush shrubs and 'fynbos', the Cape's indigenous floral heritage. A tearoom, restaurant and coffee bar are on site. In summertime the delightful setting becomes the venue for Sunday evening open-air concerts, when picnickers relax on the lawns, sipping Cape wine, and enjoying the sunset entertainment.
Address: Rhodes Drive, Newlands; Website: www.kirstenbosch.co.za; Telephone: 021 799 8783; Opening time: Daily 8am to 6pm (April to August); 8am to 7pm (September to March); Admission: R30 (adults), R5 (children 6-18). Concessions available. Concert fees are applicable on Sunday afternoons during the Summer Sunset Concert series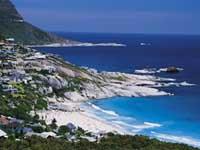 Llandudno, Cape Peninsular © SATOUR
Beaches
Cape Town has some great beaches, but the most easily accessible are on the Atlantic Ocean where the water is unbelievably cold; the locals rarely venture in beyond knee-high depths. The most popular is Camps Bay beach, a long, wide stretch of golden sand packed with locals and tourists alike and backed by a strip of fashionable bars and restaurants. Just towards town is Clifton, whose four beaches, imaginatively called First, Second, Third and Fourth, are situated beneath exclusive houses and apartments set into the cliff that protects sunbathers from the harsh southwesterly wind. First Beach is the largest and most popular with families (the steps are shorter), Second Beach is preferred by the 'camp' and 'hip' crowd, and Third and Fourth are usually frequented by well-toned locals and, when the waves are up, surfers. The small suburb of Llandudno, 15 minutes south of Camps Bay, is home to another excellent beach and is popular with locals from the Southern Suburbs or those keen to avoid the crowds. There are no bars or restaurants here, the nearest being at Hout Bay, another 10 minutes south. Hout Bay's long beach is popular with families and walkers but is not as stunning as its neighbours.
District Six Museum
Until the 1960s, District Six was a vibrant district of Cape Town, close to the city centre and the harbour. In 1966 the government declared District Six a 'whites only' area under the Group Areas Act and over 60,000 residents were forcibly moved to the outlying Cape Flats, a barren area several kilometres away, and their homes flattened by bulldozers. Communities and families were uprooted and torn apart, and this moving museum serves to safeguard the memories and the spirit that was District Six. The museum houses an impressive collection of historical materials, including photographs and relics such as street signs, much of which were donated by former residents. The museum also offers a guided tour of the area led by an ex resident, but these must be booked in advance.
Address: 25A Buitenkant Street; E-mail: info@districtsix.co.za; Website: www.districtsix.co.za; Telephone: 021 466 7200; Opening time: Monday 9am to 3pm, Tuesday to Saturday 9am to 4pm; Admission: R15 (adults), R5 (children)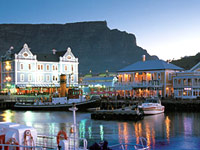 Cape Town Waterfront
Victoria & Alfred (V&A) Waterfront
This working harbour, historical site and shopping and entertainment development has become one of Cape Town's most visited tourist attractions. The waterfront offers everything from shopping malls, and arts and crafts markets, to live music, cinemas, buskers and a variety of festivals throughout the year. There are also more than 70 eateries ranging from pubs and fast food outlets to five star restaurants, luxury hotels, and a variety of boat trips, harbour cruises and helicopter charters. The Two Oceans Aquarium is the largest of its kind in Africa and is an impressive display of life in the oceans surrounding the Cape Coast (www.aquarium.co.za).
E-mail: aquarium@aquarium.co.za; Website: www.waterfront.co.za; Telephone: 021 408 7600, or 021 418 3823 (aquarium); Transport: A Waterfront bus service links the Waterfront to the city centre and the Atlantic Seaboard. Buses from the Victoria & Alfred Hotel travel to Adderley Street in the city centre, while buses from Breakwater Boulevard outside Victoria Wharf travel as far and the Peninsula Hotel in Sea Point; Opening time: Aquarium: daily 9.30am to 6pm; Admission: Aquarium: R76 (adults), R35 (children 4-17). Concessions available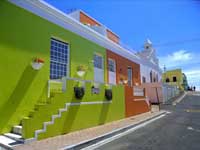 Bo-Kaap, Cape Town © SATOUR
Bo-Kaap
Bo-Kaap, or the old Malay Quarter, was declared an exclusive residential area for the Muslim Cape Malays under the Group Areas Act of 1950 during the Apartheid years, forcing people of other religions and ethnicity to leave, and today is still closely associated with the Muslim community. The houses have been restored and colourfully painted, and the steep cobbled streets, mosques, minarets and blend of Cape Dutch and Edwardian architecture make it one of the most interesting historical and cultural areas of the city. The Bo-Kaap Museum on Wale Street documents the history of the Cape Malays Tel: (021) 481 3939.

Website: www.iziko.org.za/bokaap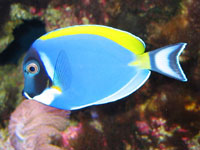 Tropical fish © Two Oceans Aquarium
Two Oceans Aquarium
The Cape sits at the meeting place of the Atlantic and Indian Oceans, and over 3,000 sea animals from both oceans are showcased in the aquarium, highlighting the diversity of marine life found in the waters around Cape Town. The Two Oceans Aquarium is one of the city's top attractions and visitors of all ages will be fascinated by the variety of exhibits, such as the Predator Exhibit, featuring large sharks and rays, a kelp forest, and animals such as seals, penguins and turtles among thousands of different fish. It is also possible to dive with the ragged-tooth sharks, or in the kelp forest while feeding hundreds of fish, but advanced booking is required and divers must present dive qualifications.
Address: V&A Waterfront; E-mail: aquarium@aquarium.co.za; Website: www.aquarium.co.za; Telephone: 021 418 3823; Opening time: Daily 9.30am to 6pm; Admission: R76 (adults), R35 (children 4-17). Tickets valid for the day. Shark/Kelp forest dive: R450 (R350 with own equipment)
Westcoast Ostrich Ranch
The ostrich farm is home to over 220 ostrich species as well as other birds, including dwarf ostriches, black-necked ostriches, peacocks, emus, and rheas. Tour guides are informative, and a 45-minute tour includes an opportunity to sit on a live ostrich, stand on an ostrich egg, and visit the breeding enclosures where newly hatched chicks can often be seen. There is also an Egg Factory, Leather Factory, curio shop and a restaurant specialising in ostrich dishes.
Address: Van Schoorsdrif Road, Philadelphia; E-mail: info@ostrichranch.co.za; Website: www.ostrichranch.co.za; Telephone: 021 972 1955; Opening time: Tours are run daily, every half an hour on the hour; Admission: R32 (adults), R24 (children 6-16)